I gave this book 5 of 5 stars on Amazon and Goodreads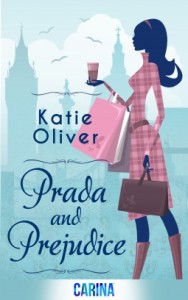 Any book that has me riveted to the story, rooting for the protagonists, and often laughing out loud, is a terrific read in my opinion. And Katie Oliver's Prada and Prejudice does that.
It is a romantic comedy, similar in style to Sophie Kinsella (Shopoholic) and Helen Fielding (Bridget Jones), yet Katie Oliver has a style of her own. The story is fresh and fast paced with very likable characters, flaws and all. Ms. Oliver writes with wit and compassion. The heroine, Natalie, comes from wealth and privilege, heiress to a venerable department store that is now failing; the stoic and complex Rhys Gordon is brought in to turn the store's fortunes around. Ms. Oliver quickly reveals Natalie to have a big heart and the ambition and drive to make something of her life. When fate hands Natalie a tumbling array of intrigues and complexities, I was emotionally invested enough to cheer for her and want to see how she deals with things, especially with Rhys. He is a self made man, irresistible, sexy, with a sharp edge that stems from his working class background. His ethics and charm make him a worthy protagonist and love interest for Natalie.
Neither character is a cookie cutter personality. They have real depth and authenticity. The interactions between Natalie and Rhys are riveting from the beginning, replete with snappy dialogue, believable misfires, sparks and misunderstandings. Their relationship evolves in staccato fashion: both with secrets, then their revelations, opening up then shutting down. In other words, real life. I wanted to know how their love story would develop and how Natalie would overcome personal and public trials, and for both of them, whether the company could be saved.
Katie Oliver paints secondary characters with broad brushwork that catches just the right tone and nuance to make them believable yet not overpowering. I wanted to know more about them and I have a feeling I will in the rest of the trilogy.
Three storylines are masterfully intertwined, moving at an equal pace and picking up steam to keep the reader tantalized: the love story, the intrigue, and the drama over the fate of the department store. The protagonists transform in genuine ways, Natalie becoming stronger, understanding her own worth and ambition and Rhys softening, opening up emotionally though he remains a strong masculine counterpoint to Natalie's femininity. Natalie is not a vacuous, rich woman, but a woman of dimension who blossoms through adversity. The reader gets the feeling from the start that Rhys is a confirmed bachelor, putting career first, so it is fun to watch his walls crumble and the direction of his life change.
It is hard to believe that this is a debut novel for Katie Oliver. Her writing is wonderful and witty and I look forward to reading more from her.