My Review of Loving You Always by Kennedy Ryan
I gave this book 5 of 5 stars on Amazon and Goodreads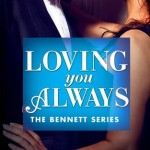 This is a wonderful love story, an emotional drama with big themes of redemption, loyalty, and forgiveness. What really struck me from the beginning was the exceptional writing, the metaphors that came fast and furious lighting up scenes. I was amazed at how Ms. Ryan could produce so many evocative metaphors and never miss the mark or draw me out of the story. Quite the opposite, her poetic images made me feel the love, tension, betrayal and healing. I was drawn in from the beginning though this is book two in a series. It is the first and only book I have read by Kennedy Ryan.
The main characters, Walsh, Kerris and Cam, never lapse into stereotype. Their dilemmas and struggles feel real, their growth and maturation unfold in a believable way.
There is a high degree of sensuality, appropriately done, that keeps the central theme of true love front and center. It is the story of strong people, Walsh and Kerris, with flaws who make real mistakes, are hampered by their pasts, struggle to find self acceptance, to forgive others and themselves, who in the end are restored to wholeness in a very satisfying way. It is about finding true love after being tested by fire, second chances, a false sense of duty tainted by emotional vulnerabilities that must be worked out to be able to accept true love. Walsh and Kerris do find that while the third person in the love triangle, Cam, changes in ways that I imagine will begin his journey toward love and fulfillment in the third book of the series.
Secondary characters are flesh and blood real: Mama Jess, a no nonsense mama with a twinkle in her eye and unconditional love for Kerris; Cousin Jo, with her rough, honest laugh, vulnerable and hurt by love. Even the villain feels like the mean girls I've met along the way in life. Secondary themes of Walsh's growing connection to his father, of accepting his ambition, of honoring his adored mother intertwine seamlessly with the story.
Kerris has issues with esteem and abandonment but what feels most real is her struggle to accept her truth. It is her half-truths and self-sacrifice that end up hurting everyone. She learns that actions have consequences and that acceptance of who she truly is will set her free to find true love and happiness.
This is a beautiful story with exceptional writing. I thoroughly enjoyed it and look forward to reading more of Kennedy Ryan's books.