My Review of House Broken by Sonja Yoerg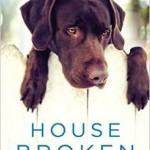 I gave this book 5 of 5 stars on Amazon and Goodreads
The first thing that struck me in Sonja Yoerg's brilliant debut novel is her masterful execution of three points of view: Geneva, the reserved but empathetic veterinarian; her alcoholic mother, Helen; and Geneva's rebellious teenage daughter, Ella. The voices of each are unique and believable, the speech and perspectives pitch perfect.
It is a story of family dynamics, of dark secrets and resentments brought to light, of misinterpretations of important events. Instinct plays a critical role—ignoring it, doubting it, or facing it head on.
Geneva is the pivotal character: her relationship with her supportive husband, Tom; with her children; with her mother whom she has accepted reluctantly into her family home as Helen recovers from an alcohol related accident. At first Geneva's family of origin feels normal with typical dysfunction but then it turns sinister with secrets that weave a labyrinth of deceit, betrayal, and most heart-breaking, complete denial by one of the siblings.
Geneva is a likeable protagonist: a brave soul, loving her family despite the trials, capable of great compassion, instinctive, wanting to hold her family together yet willing to look trouble in the eye. Her family feels real: lovable husband Tom with his own family secrets, his parenting differences with Geneva; the sibling rivalry of Ella and her younger brother, Charlie, both rebellious, but, in Geneva's words, "salvageable." I love Charlie's line: "No one tells you how stressful it is to be this cool." Perfect!
Yoerg tackles tough issues but there is wit and humor along the way, as well as the clever intertwining of animal behavior with humans: Geneva's faithful dog Diesel; the Clinic's retriever, mischievous yet redeemable; and Aldo, Tom's sister Juliana's Doberman, perhaps beyond repair–each with a human counterpart or two. Even the title, House Broken, has a double entendre, dogs to humans: Geneva's broken family of origin and her own family now on the verge of falling into the same trap of denying what Geneva knows by instinct.
I was drawn into the story wondering how I would act, if I were one of the characters. At any point Yoerg could have made a wrong move yet she did not: believable characters and voice, beautiful writing, proper pacing to hold interest and reveal plot and motivations, staying true to the characters and to the story.
It is an excellent book and I look forward to reading more by author Sonja Yoerg.