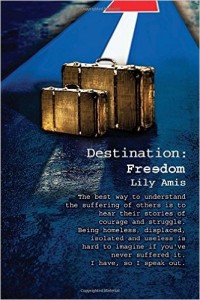 I gave this book 5 of 5 stars on Amazon and Goodreads
With an honest and raw approach Author Lily Amis tells her story of life as a young refugee. The book is based on true events that occurred between 1976 and 2002. It started with Lily and her Mom returning to her home city, Asiacity, after being in exile for 15 years. The story flashed back to the country pre-revolution, to the beauty of their culture, the strength of family, and then to the revolution and the horrific bombings that terrified Lily and her mother.
Life under the new regime was intolerable. Added to that were personal tragedies of betrayal and abandonment. Lily's Mom made the difficult decision to seek asylum in EUcity, not knowing how difficult life would be as a refugee, the dashed hopes and dreams for opportunity and freedom.
Author Amis used the term, "trapped in a gilded cage," meaning caught in a country with freedom and beauty, yet unable to travel or enjoy the benefits of legal status, of being integrated into a free society. She and her Mom were socially isolated, struggled for acceptance yet experienced injustice and intolerance.
At the end of the book, at the grave of her beloved grandfather, Lily expressed her anguish at not being able to be with him when he was dying: "He was one in a million, an honest, loving, caring man, husband, father and grandfather with a big heart and soul." She felt empty and wondered whether the suffering was worth the sacrifices.
By telling her story author Amis hoped to be a "voice for the voiceless of the world." She opened my eyes to understanding the frustrations and heartbreak for an asylum seeker. And yet this was also a beautiful story of the loving bond between a mother and her child, of their courage and strength, and their amazing journey of triumph over heartbreak. With gifts of intelligence and talent Lily and her Mom more than survived, but that is the subject of the other two books in the trilogy.
I highly recommend this book, which is beautifully written with an honesty and passion to bring justice to other refugees like Ms. Amis.