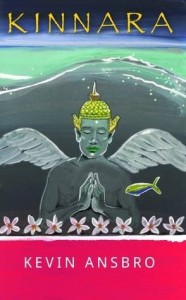 My Review of Kinnara by Kevin Ansbro
I gave this book 5 of 5 stars on Amazon and Goodreads
I loved this book. It was such a fun read with great themes and a satisfying ending. I bought Kinnara after listening to a delightful interview with the author Kevin Ansbro on BBC radio about why he wrote the book. Who would not be intrigued by an author who mixed genres of romance, thriller, and mythology, and then injected a bit of humor to contrast with the suspense and pathos?
Ansbro is a superb writer with masterful storytelling skills. He intertwined three storylines creating characters that were charismatic and empathetic. I was immediately pulled into their stories and dilemmas. The narrative felt real even when it touched on the magical; disbelief was suspended and I felt anything was possible. Even the emotions of a mythological creature felt real.
With lush prose and perfect pacing Ansbro pulled me into the stories of young love, the agonies of loss and bereavement, and yearnings of the heart. I felt the emotions and perspectives of the characters, whether Sawat, a poor Thai boy; or Calum and Hannah, young British lovers. I even listened with dread to the inner musings of a deviant mind with murder in his heart.
Ansbro used the right amount of humor and introduced peripheral characters that fleshed out the stories and lives of the main protagonists. His sensual prose was so evocative I could feel, smell, see, and hear each scene, especially those set in exotic Phuket Thailand by the Andaman Sea, whether at the gorgeous seaside resort or in the stinking squalor of the tenements where Sawat lived.
Ansbro writes fondly of Thai culture, the humility and hospitality, the inner calm. I was as charmed by their gentle culture as he, and could feel the beauty of the people. A major theme is mirrored in the young lover, Calum, and the mythological creature, Kinnara—their awakening to an understanding that impulsive actions spurred by anger could have far reaching and devastating consequences. Another theme, even with the peripheral characters, was the healing nature of love between lovers and friends. Evil existed, but with repentance and right action redemption was possible.
I loved Ansbro's Acknowledgements, which had a beautiful expression of love for his wife. It is easy to see the inspiration for the love story in Kinnara.
This was a beautiful book and a wonderful read. I truly did not want it to end and would love to delve back into its world following the characters into the next chapters of their lives. It would make a wonderful film. I look forward to more from author Kevin Ansbro.