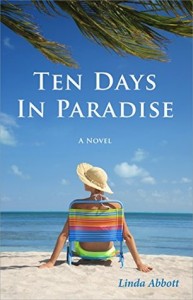 My Review of Ten Days In Paradise By Linda Abbott
I gave this book 5 of 5 stars on Amazon and Goodreads
This is a wonderful debut novel by author Linda Abbott. She has masterfully woven together multiple plot lines to create a delightful, heartwarming story that explored the theme of family: love and commitment; parental issues with children, young and grown; sibling rivalries; marriages gone stale; infidelity; aging; loyalty, forgiveness, and reconciliation.
Set on the beautiful island of Sanibel off Florida, the lush locale was a character in itself. I could feel, see, and hear the tropical paradise, the pounding or gentle surf, the exquisite sunsets, the flora and fauna, the seashells and shorebirds. Environment mirrored the internal landscape: crashing waves reflected inner turmoil or a desperate search for a lost child; a gleaming splinter of light on an alter inspired religious meditation. I felt the conflict of year round residents with their tight community and love of the raw beauty of Sanibel versus wealthy interlopers walled off in mega-mansions and fancy resorts.
I loved Abbott's poignant descriptions of family, especially sisterly love, so beautifully rendered, it was hard for me to read. I lost my two sisters in their prime and so her tender, evocative prose brought back all the raw emotions I felt of love and loss.
Abbott exquisitely conveyed the longing of the soul for love and intimacy, the need to feel noticed and appreciated, and the trouble that arose when a partner was disengaged. She wrote of the trials of marriage in the past or anticipated (dementia), how different couples handled these and continued to do so. She made me feel the strong pull and healing nature of family love; yet, also the power of family to hurt and damage.
There was a lot of territory to cover yet Abbott handled it well, the various storylines, the large cast of characters, so that I was easily pulled from one storyline to the next. The characters were well developed and believable.
I could feel the inner turmoil and yearnings of the main characters. Nothing was simplistic; people were flawed, as we all are. There were so many wonderful snippets of real life, things I've experienced and know as true: rebellious sister Maggie accepting behavior from her brother David yet rejecting the same from her sister Julia: who hasn't experienced that on some level? Human foibles made me smile in recognition of the same in myself.
Abbott's prose spoke of the truths of human experience: the poignancy of aging, issues of health and lifestyle choices, nostalgia, hypocrisy, betrayals, all the messy things of human nature, as well as the beautiful and uplifting, family love and loyalty, the promise of eternal love, the beauty of reconciliation. I thoroughly enjoyed the book and look forward to more from Linda Abbott.